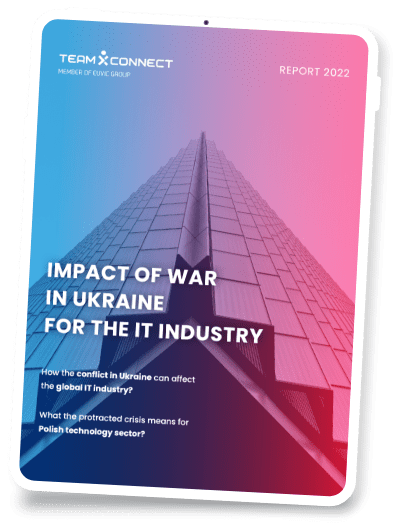 See the new Team Connect report – The impact of the war in Ukraine on the IT industry
Global IT outsourcing market and technology industry in Europe are facing another difficult challenge. February 24, 2022 Russia invaded Ukraine – a key target of outsourcing for many companies in North America and Europe. How does the conflict in Ukraine affect the global IT industry? What does this continuing crisis mean for the Polish technology sector?
DO YOU KNOW THAT…
Ukrainian technology sector is one of the largest outsourcing markets of IT services in Europe. Only in 2021 exported services were worth $ 6.8 billion.
In the technology sector in Ukraine works more than 285 000 IT specialists. Developers from this country are ranked 5th among the best IT professionals in the world.
Ukrainian programmers work for technology tycoons like: Microsoft, Ericsson, Siemens, Oracle, Meta, Google, Samsung, IBM, Dell and Amazon.
The collapse of the IT sector in Ukraine would pose a threat to the functioning of many international companies.
The migration of Ukrainian IT specialists caused by the war can fill staff shortages in neighbouring countries.
CONTENTS
IT sector in Ukraine
Ukraine as an outsourcing talent pool
Ukrainian IT specialists in numbers
Technology developed in Ukraine
Ukrainian IT industry during the war
Companies support Ukrainian employees
The impact of war on the technology industry
How the world of technology reacts
Will we witness a great technological migration?
Will Russia experience talent drainage in the field of technology?
Opportunities and challenges for the Polish IT industry
Increasing demand for IT professionals
Download the report
and learn its full content.